First off, Mom and R.stop reading right now... at least until after Sunday. Thank you.
Waiting...
Waiting...
Waiting...
Okay.
Now where was I... Mother's Day! It's just around the corner.
My parents are still up in PA, and I have been super bummed knowing mom wouldn't get to spend the her first one as a grandma with J. Not that a gift can make up for that, but I really wanted to make something that could be from J and was also
cheap
easy to mail, so when genius struck a few months back, I knew I had the perfect mini-gift to go inside of the cards for the moms! I am kinda a sucker for sentimental stuff and fortunately, so is my family (see what we do for Christmas gifts
here
), so I think this will be a much liked gift. Added bonus: it was super quick to make!
Being the forgetful person super over-planner I am, the cards were finished mom and R a few weeks ago, but I had been waiting for a good night to complete my "project"... happened just last night. Now that the cards are done and in the mail, I thought I would share my idea in case you are needing an idea for a cute gift for mother's day. Are you ready for it?
It's a hug! First, I made prints of J's hand with non-toxic watercolor on card stock. Next, we measured a ribbon from one of his wrists to another and then stapled it between the hand prints. Easy, huh?
Hindsight being 20-20 I should have included the date on the back of the hug, so make sure you so that on yours. The cards, which read "you are an awesome mom", were inked with Dr. Phil Martin's Bombay Waterproof India Ink, using my vintage Speedball nib/pen set on some blank white cards I had on hand. The liners were made from origami paper, but any coordinating paper will work.


Here are a few links to some cute cards in case you are looking for one last minute
1. Free printable
Printable card from How About Orange
2. Free Printable
Printable card from ISLY
3. Because I love letterpress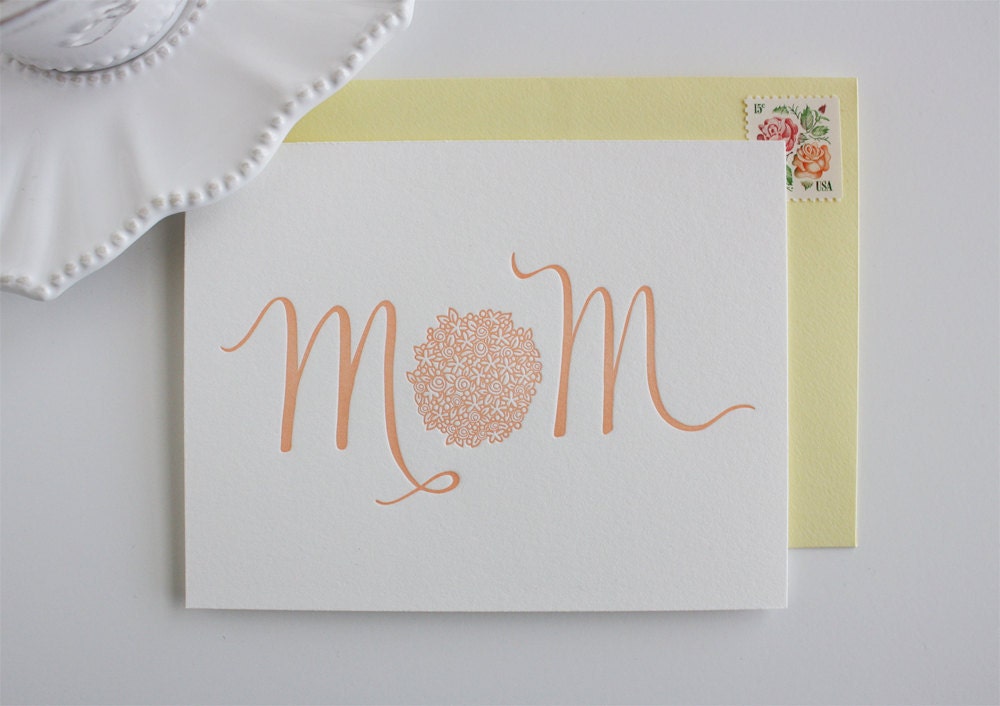 from Honizukle on etsy
I always seems to get ideas for things like this waaay ahead of time, or right after the holiday. Then I forget about them over the next few months. So I'm extra excited this one actually is done. Are you a plan ahead gift giver or a last minute shopper? If you are the later, feel free to use this tutorial. Maybe even leave a link in the comments of how yours turns out?!